Ephémère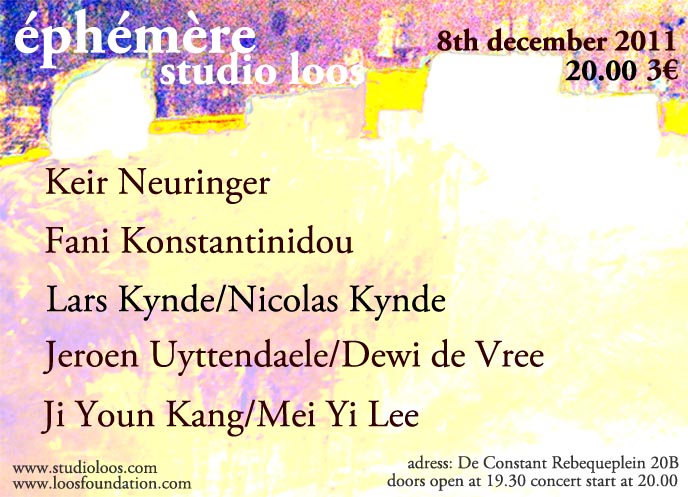 December 8, 2011
Studio Loos, The Hague, 20:00
doors open at 19.30, entrance fee: 3 €
Special program with 5 performances
Keir Neuringer- solo saxophone
Fani Konstantinidou - electronic pieces
Lars Kynde/Nikolaj Kynde - new instrument
Jeroen Uyttendael /Dewi De Vree - audiovisual performance
Ji Youn Kang/Mei Yi Lee/Marie Guilleray - electronics percussions voice
......
Keir Neuringer
Solo saxophone
Keir Neuringer composes and performs music, writes socio-political performance texts and essays, and creates interdisciplinary artworks, all with the aim of bringing audiences into a state of emotional and intellectual curiosity that meets the conditions for meaningful dialogue with the culture at large. Over the last 25 years he has cultivated a personal and intensely physical approach to solo saxophone improvisation that honors and builds upon diverse music-making traditions. When not performing solo, Neuringer works with Rafal Mazur, DJ Sniff, Ensemble Klang, and has performed with free improvisation legends Evan Parker and Mischa Mengelberg and electronic music pioneers Michel Waisvisz, Joel Ryan and Marek Choloniewski. He's been an active participant in experimental music communities in The Hague and Amsterdam, and now lives in Ithaca, New York.
More info: http://keirneuringer.com
......
Fani Konstantinidou
Concept: no concept
After almost four years of restricting myself to focus on the concept of my compositions, I decided to create a short sequence of pieces with a main concept: no concept. It is a personal collage of some older sound material that, together with some new, is treated in a different way and aims to focus on the composition itself rather than a story or a theme. Therefore, thematically non related sounds form new pieces that let me explore myself as a composer by setting less limitations to my choices. As a result, my attention focuses on the construction of the form by concentrating only on the characteristics of the sounds and disposing their previous meanings and memories.
Fani Konstantinidou (Greece, 1980) is a sound artist/electronic music composer currently living and working in the Netherlands. She studied Music Technology & Acoustics (BS) in Crete -Greece and Sonic Arts and Technologies (MA) in Corfu, Greece. Recently she finished her second master at Sonology-Royal Conservatory in The Hague, The Netherlands. Her works are mostly multichannel compositions for fixed media. Part of her research is focusing on conceptual composition, sonic images as well as the imagination of the listener in electronic music. In her music, she explores the power of space and time as compositional tools that affect listeners' perception and she has a particular interest in combining computer generated sounds with recordings of physical sound sources.

......

Lars Kynde & Nikolaj Kynde
Wandelende Tak
Wandelende Tak is a musical score.
Wandelende Tak is an instrument.
A composition machine composed by three:
Tempo, Rhythm and Pitch.
An attempt of control of a chaotic reality.
An artificial game about structure and freedom,
A collaboration resulting in sound.
Lars Kynde is a composer that delights in creating the instruments on which his compositions are played – in fact these two aspects of music making are not so easily separated in his case and the invention of new instruments and the music created for them melt into surprising new forms.
Nikolaj Kynde is a working composer and trombone player with the roots in the Copenhagen jazz scene. He studied trombone at the Academy of Music and Dramatic Arts in Denmark. In 2010 he moved to the Hague to further his compositions in electronic music at Sonology.
......
Dewi de Vree & Jeroen Uyttendaele
Ground
Ground is an audiovisual performance using graphite drawings as a control interface for multiple custom build electronic instruments. Drawing, erasing and touching become the main gestures for a unique audiovisual composition. Graphite is a conductor for electricity. By using graphite as a variable resistor (instead of a standard knob) the pitch, amplitude and sound color of sound generators can be controlled. Ground offers a field of possibilities in which auditive and visual elements are interconnected. Drawing, touching and slowly ore rapidly (re)positioning the instruments on the drawing have a direct auditive result. A musical tension is literally 'build up' by placing and removing several (handmade) instruments on one ore more drawings. Ground creates a archaic, tangible and explicitly visual form of electronic music.
Dewi de Vree (1983) is a Dutch soundartist with a fascination for natural phenomena and translations between image and sound.The interest in the interaction between the human and the machine led to the making of "translating-machines" and sound interfaces. In 2009 she started her collaboration with Rachida Ziani, 'Randlabr'. Central in Randlab is the sensual experience of physical experiments. They developed Elektrolab, a series of sound installations and performances based on electrochemistry and Thermokoppel, a series of soundperformances which deals with the relation between temperature and the acoustic properties of metal.Currently she is also working together with Jeroen Uyttendaele on their project 'Ground', an audiovisual performance in which the electric conductive property of Graphite is being used to manipulate sound.
Jeroen Uyttendaele (1981) is a developer and composer of audiovisual instruments, installations and sound compositions. Sound is approached as a sculptural material whereas the development of a instrument directly relates to a time-based composition generated by the instrument. The possibilities of his self made media are basic building blocks for compositions in time and space. Jeroen currently lives in The Hague and Brussels.
......
Ji Youn Kang, Mei Yi Lee, Marie Guillleray
new piece for percussions electronics and voice
Ji Youn and Mei-Yi have been collaborating as a duo, combining percussion and live electronics, and Marie Guilleray has joined with her voice. Here they are trying to move away from their own specialities as a composer, percussionist and vocalist, to an ambiguous realm where there is no clear division between their roles. They use crude materials and unusual instruments to create a continual flow that is both ritualistic and human. These instruments are not only there to be played directly, but also to give an opportunity to the performers to control, react to, and deactivate them, developing a more bi-directional relationship with the instruments. Special care was taken to pick and create instruments that can interpret and amplify minute and tender bodily gestures as large and harsh musical ones. This performance borrows characteristics of the Korean ritual of 'Cit-Kim-Kut', which aims to clean the body and spirit of the living and to comfort the deceased. The harsh, heavy, noise material, together with a exciting rhythmic development leads the whole to the moment...
Ji Youn Kang, born in Seoul, South Korea, studied composition at Chu-Gye University of Arts and moved to The Netherlands in 2006. Her objectives and interests revolve around the creation of her own musical language that (re)presents the Korean tradition and culture using materials from Korean music as well as newly generated sounds. Many of her electronic music pieces have been composed based on the rites of Korean Shamanism using the Wave Field Synthesis system in The Hague (192 loudspeakers), exploring the relationship between musical and physical spaces. She achieved her Master degree both in Sonology at the Royal Conservatory in the Hague, and in composition at Conservatorium van Amsterdam. Currently She is working as a research associate in Sonology, and is active as a composer and sound artist based in The Hague.
Mei-Yi Lee (Taipei, 1982) After achieved her bachelor degree at the National Taiwan University of Arts she moves to The Netherlands to continue her musical education at the Royal Conservatory in The Hague under the supervision of Fedor Tunisse, Luuk Nagtegaal, Hans Zonderop
Presently she is a regular guest performer with several ensembles such as Slagwerkgroep Den Haag, Taiwan Youth Orchestra, Percussion Ensemble 1002, and the National Taiwan Symphony Orchestra, among others; performing in important concert halls from France, Italy, Belgium, The Netherlands, Luxemburg, China and Taiwan.
She is currently concluding her Masters degree at the Royal Conservatory of The Hague, focusing in the percussion works of John Cage as well as collaborating frequently with young artists and composers.
Marie Guilleray (1978) is a french vocalist, composer and sound artist currently based in The Hague, Netherlands. She performs mainly in the context of free improvisation, experimental and contemporary music. Her work focuses on the development of vocal extended techniques, the combination of voice and electronics to extend the voice and explore its abstract properties, and a research on bridging music and poetry. As a composer, she is focusing on electronic music for fixed media and live electronics. She is a member of several ensembles such as Royal Improvisers Orchestra, MGBG with Bjarni Gunnarsson, Sonology Electroacoutsic Ensemble directed by Richard Barrett, and collaborates on various experimental, improvised and electronic music projects.
......
(text taken from Studio Loos)